So, I spotted this as a series whilst blog-stalking
the Blue Rinse
(who has just had a gorgeous baby boy by the way if you also want to stalk) and I am slightly stealing the idea for myself as I really like the idea. Just to state the obvious, this is going to be a wish list, but categorised, which makes my inner nerd happy.
I mentioned way back in my
August Favourites
post that Rich and I were into Minecraft. We were into it for a really long time, but then stopped playing it quite so much in favour of other games. Then Rich bought it on Xbox One, and being able to play it in co-op mode has got us really obsessed again. So, when I spotted this torchlight on the Firebox website I immediately wanted it. I don't even know where I'd put it, but it makes me very happy. Definitely a want.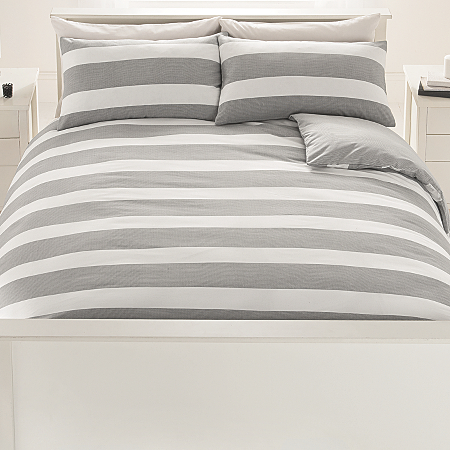 My spare bedroom has all of the bedding and accessories in it which were in my bedroom in my flat, which came from the house-share I was in before that, and that was a really long time ago now (5 years!) so I think it's about time I changed it up. Also because the bedding is Argos bedding it doesn't wash so well and looks faded and old. Mostly because it is old but y'know. The walls are white and the curtains are black in the spare room, so I thought this grey striped set would go well with the decor and I could still keep some of my bright pink accessories to give a pop of colour.
Now that it's not chuffing freezing all the time I'm not having to wear all the layers when I go out, meaning I'm beginning to realise that I pretty much only own hoodies, and not many jumpers. I love the look of this sweater, as it would be perfect for spring teamed with my skinny jeans and docs. Unfortunately this one is out of stock in my size, so the hunt will have to continue. Has anyone seen anything similar anywhere else?
I am really looking forward to reading this book after seeing a lot of people raving about it on Instagram and Twitter. It tells the story of a girl who sees the same house every day on her morning train to work, but then one day she sees something which shocks her and changes everything. This book appeals to me because I love to make up little lives and think about the people who live in houses I see on my way to work (not many really as most of it is on the motorway, but it still entertains me) and it has been compared to Gone Girl, which had me reading it in every spare moment. The only thing holding me back from buying it straight away is that it's still on the more expensive side of how much I like to pay for a Kindle book. I'll buy it when it either gets down below £5, or if I'm lucky enough to get any Amazon vouchers for my birthday. I just hope I manage to stay spoiler free until then!
I hope you've liked this new style of wishlist post, I've enjoyed putting it together even if it does have a random mix of things in it.
Rachel x